Production & Manufacturing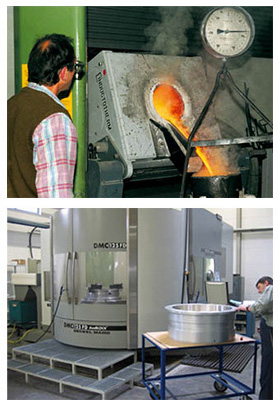 We design our processes like our plain bearings: low friction operation and efficient process management with continuous improvement. Vertical process integration ensures optimum performance from the raw material to the finished product.

In our foundry the traditional skill of the craftsman is combined with modern production engineering. The bearing materials are smelted in resistance-heated electric and medium-frequency induction furnaces, and then processed further in various casting processes; the chemical composition of the materials is continuously monitored by means of spectral analysis.

Further machining in the mechanical workshops is made both using modern CNC-production machines from leading brands and special purpose machines, developed and manufactured in-house.

Our highly qualified and experienced employees do their utmost to ensure our products meet the specifications and quality standards.